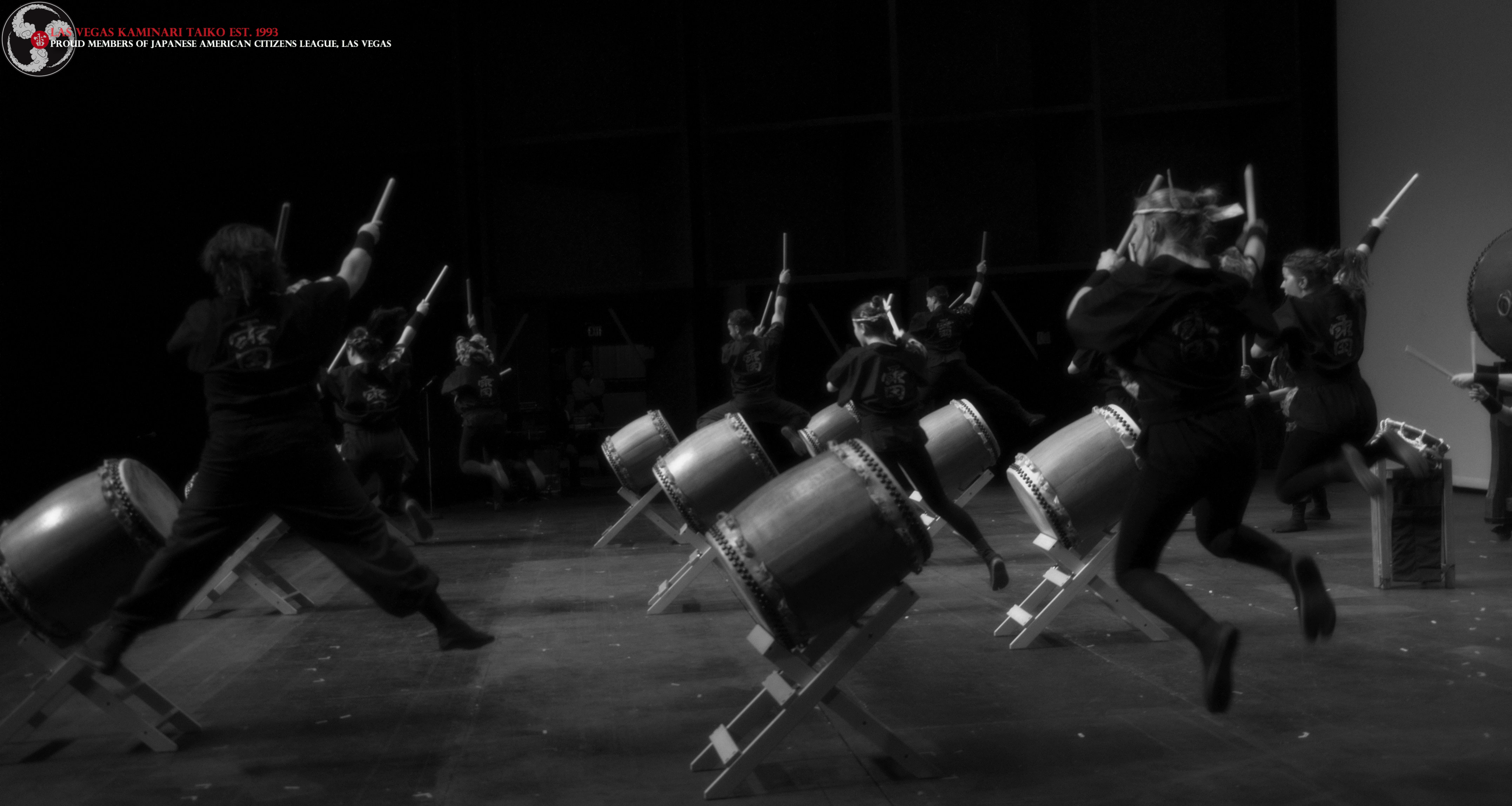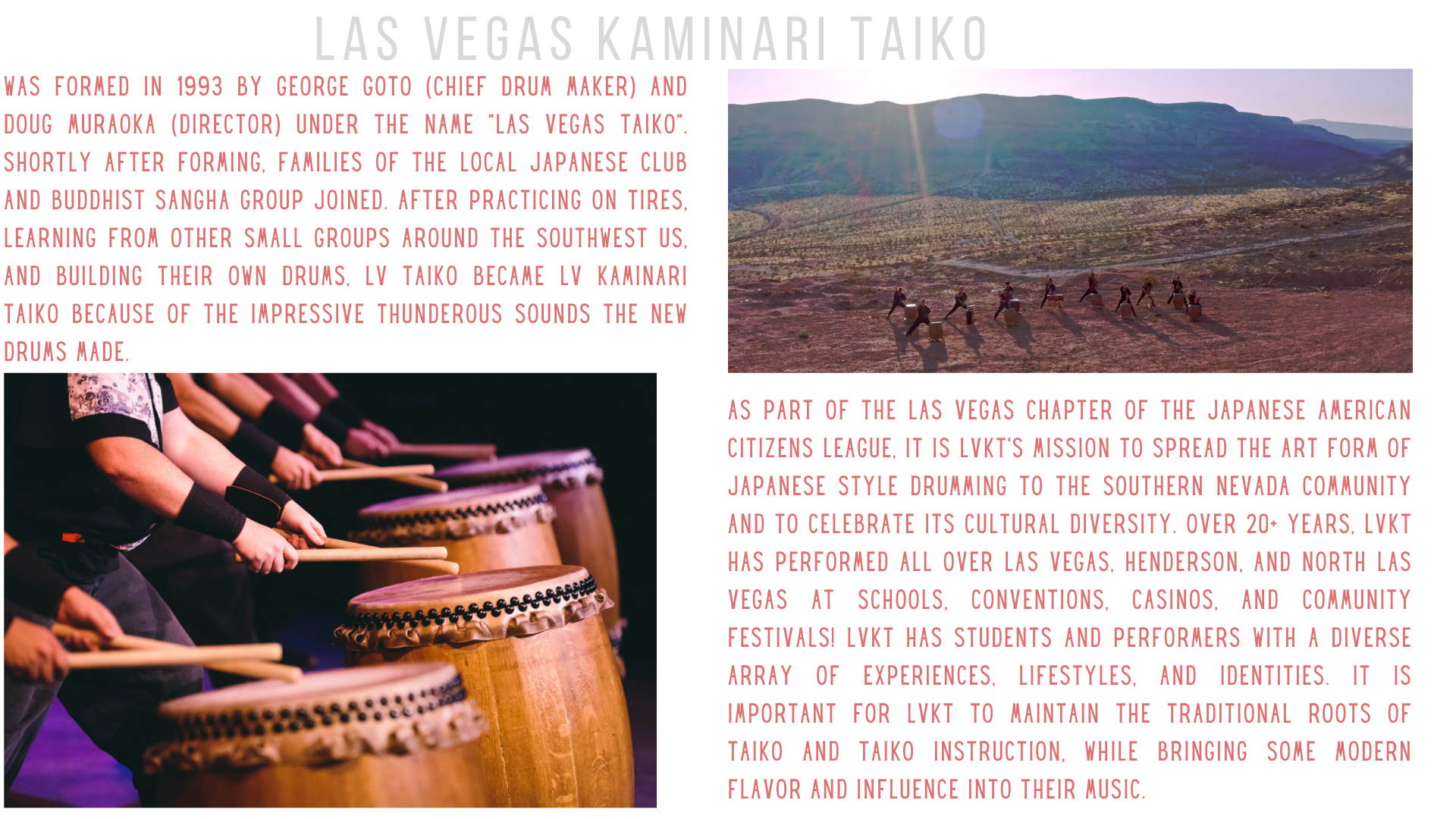 AAPI Heritage Concert Program:
May 21, Summerlin Library & Performing Arts Center
May 29, Clark County Library Theater
Haruka –  written by Mitsuru Ishizuka, Kodo. As part of the One Earth Music Composition released by Kodo, Haruka means "Faraway" and was written to capture the sentiments of: 
"Even if we are far apart,
No matter the distance
I'm always thinking of you! I can always hear your voice!
So it's alright! We've got this!"
In the time that we were apart, we yearned for personal connection. This song perfectly captures the strong support we give to each other!
Ashura – written by: Rev. M. Kodani, Kinnara Taiko – the oldest Buddhist Taiko group in the US. Ashura is one of the 6 realms of Buddhist existence; a place of suffering, envy, and jealousy. We become Ashura or "fighting demons" when we insult or hurt other people. Ashura eventually learn that fighting brings only emptiness and that peace can only be achieved through harmony. In this song, the drums fight against each other, but in the end the fighting stops, and they all play together as one. 
Korekara – composed by: Michelle Fujii and Walter Clarkこれから(korekara) means "from this point on". It was one of the first open-source pieces presented to the taiko community. There are dances that are also choreographed for this song, and it makes the piece more fun!
Yonsei – composed by: Jason Osajima. Yonsei is a true hype song that embodies that competitive, game-day mentality. Since "yonsei" means 4th generation, it pays respect to past generations of activism and using your voice to better the future. Keep your voice loud, be proud, and be supportive!  がんばるぞ! あぶないぞ!

Kagura Daiko – traditional; Arranged by Marco Lienhard – this style of taiko focuses on the intricate twirls and difficult rhythmical passages; it is usually played by children, but becomes more difficult with older taiko players.
Wachi – inspired by: Yoshikazu Fujimoto, Kodo. arranged by: Kita No Taiko (Edmonton, Canada). Wachi is the name of the hometown of Yoshikazu Fujimoto, original member of Kodo. When you visit the island of Sado and arrive on the ferry, Yoshikazu often greets the ferry by playing a unique taiko style. He improvises his playing in this style that looks like he's wildly flailing his arms, but it's actually quite skillful, musically pleasing, and highly entertaining! Kita No Taiko was fortunate to be taught this style and was able to arrange it into a stage piece. 
Yodan Uchi – Composed by Oedo Sukeroku Daiko; arranged by Seiichi Tanaka (San Francisco Taiko Dojo). "Yodan" means 4 sides, significant as the players hit on 4 drum heads. This piece is characterized by the beautiful lines the taiko players create and the swift, choreographed movements they do in and out of the playing area. 
Shunpuu –  Composed by Yuta Sumiyoshi, Kodo, One Earth Music
春風や闘志いだきて丘に立つ
Shunpuu ya, toshi idakite, oka ni tatsu
A haiku by Kyoshi Takahama
(Translation: Spring wind, fighting spirit, standing thus on a hill)
The inspiration for this piece, the haiku generates feelings of determination, bravery, even if the air surrounding you is light. This piece was composed with the community in mind for Kodo fans to learn and perform.
Sensei no Uta – "Teacher's Piece", arranged by Seiichi Tanaka, San Francisco Taiko Dojo. This piece is an excerpt of his song California Wind which is inspired by nature's strength. This was one of the first pieces taught to LVKT by Grand Master Seichii Tanaka, which is why it's named "teacher's piece". 
Hana Hachijo – "hachijo" – Traditional; arranged by Chieko Kojima, Kodo. Hana means "Flower". Hachijo is a style of taiko played by the people living on Hachijo Island. Chieko-san created this piece to showcase the beautiful growth of a blooming flower. 
Jack Bazaar – by Kris Bergstrom. A favorite composer in the taiko community, Kris is obsessed with the beautiful "strike". In Jack Bazaar, each hit and movement have a purpose; showcasing the grace and power each individual player brings to the song. (May 29 show only)
Kazaguruma – written by LVKT members. Kazaguruma is the word for windmills. As a windmill rotates, it collects natural energy to produce usable energy. When we play taiko, we collect your energy and turn it into positive energy. This piece is a great show of movement and energy.
Kaminari – written by D. Muraoka–This is the signature piece of LVKT. Kaminari means thunder; we invite you to close your eyes and listen to the sounds of the drums with your heart.
Tatsumaki – composed by Hiroshi Tanaka, TCP/Jun Daiko. "Tornado": Dynamic movements evoke the energy and sheer power of one of nature's greatest forces.