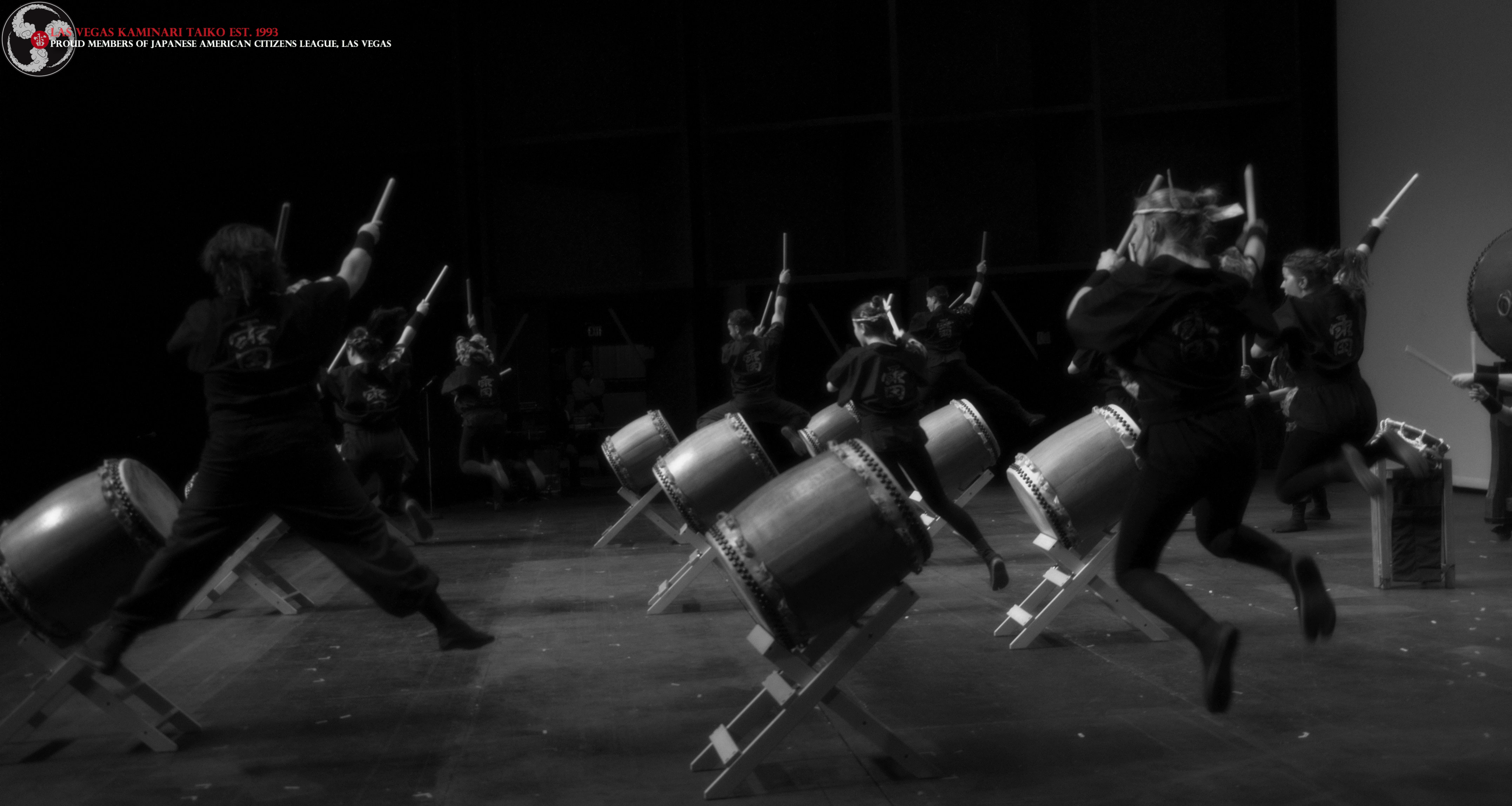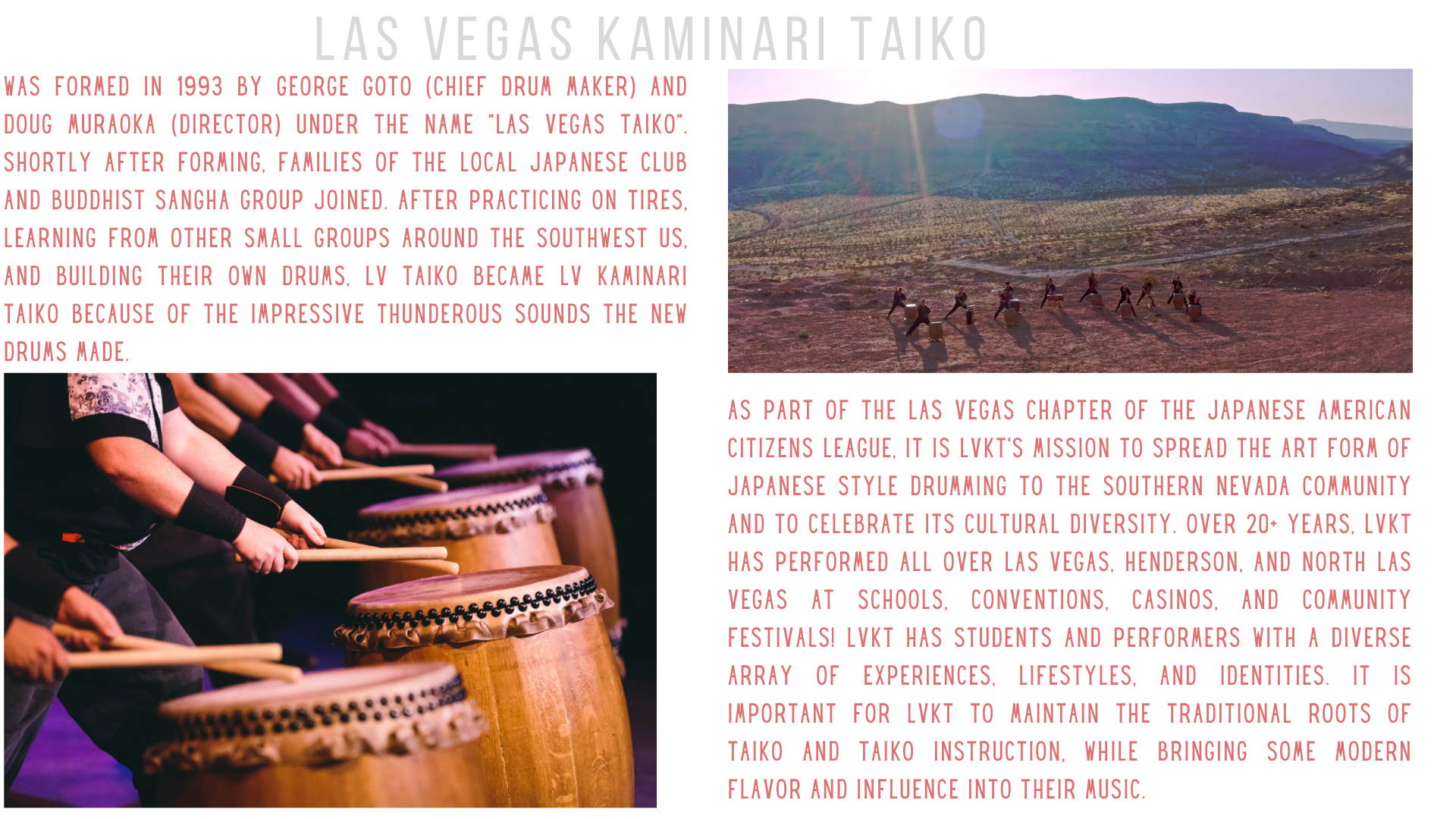 The Heartbeat of Japan | LV Kaminari Taiko in Concert
May 28, 2023, 2pm – Clark County Library Theater
Here We Go Now!! – composed by: Bryan Yamami, Masato Baba, TAIKOPROJECT (2006) – This song highlights "katsugi-style" okedo playing and opens up a wide range of choreographic possibilities for taiko ensembles.  It was composed for TAIKOPROJECT's first home concert and continues to change and evolve today.
Kazaguruma – written by LVKT members. Kazaguruma is the word for windmills. As a windmill rotates, it collects natural energy to produce usable energy. When we play taiko, we collect your energy and turn it into positive energy. This piece is a great show of movement and energy.
Narukami – composed by: Yoshikazu Fujimoto, KODO (2022) – 鳴神 (なるかみ) is "Roaring God" and refers to "Thunder". This song was commissioned by Bachido for the 2023 Taiko Taikai with the theme of "Odaiko". Our member Cameron B. was chosen as a finalist for this year's taikai held at Terasaki Budokan in Little Tokyo, Los Angeles, CA.  
Yodan Uchi – Composed by Oedo Sukeroku Daiko; arranged by Seiichi Tanaka (San Francisco Taiko Dojo). "Yodan" means 4 sides, significant as the players hit on 4 drum heads. This piece is characterized by the beautiful lines the taiko players create and the swift, choreographed movements they do in and out of the playing area.

Keppare – Arranged by Sen-Rai, Sendai, Japan
ケッパレ is regional slang for "good luck" in the prefecture of Fukushima. This song was taught to us by Kento Ito from Sendai, Japan. Ito-san is the founder of the Koi No Bori Project, which helps families affected by natural disasters. Ito-san lost his brother during the earthquake and tsunami that devastated the city and surrounding parts of Sendai. He vowed to continue to help those in need in times of disaster.
Haruka –  written by Mitsuru Ishizuka, Kodo. As part of the One Earth Music Composition released by Kodo, Haruka means "Faraway" and was written to capture the sentiments of:
"Even if we are far apart,
No matter the distance
I'm always thinking of you! I can always hear your voice!
So it's alright! We've got this!"
In the time that we were apart, we yearned for personal connection. This song perfectly captures the strong support we give to each other!
Omiyage –  composed by Shoji Kameda (On Ensemble), conceptualized by Bryan Yamami, (TaikoProject) Los Angeles. Written to be an open-sourced piece, Omiyage means "Gift" and was introduced to the taiko community with intent to alter and create flair for the taiko groups around the world.
Wachi – inspired by: Yoshikazu Fujimoto, Kodo. arranged by: Kita No Taiko (Edmonton, Canada). Wachi is the name of the hometown of Yoshikazu Fujimoto, original member of Kodo. When you visit the island of Sado and arrive on the ferry, Yoshikazu often greets the ferry by playing a unique taiko style. He improvises his playing in this style that looks like he's wildly flailing his arms, but it's actually quite skillful, musically pleasing, and highly entertaining! Kita No Taiko was fortunate to be taught this style and was able to arrange it into a stage piece.
Matsuri – traditional; Arranged by LVKT"s Tako Taiko – In Japanese, Matsuri means festival. Our kids here at Tako Taiko came together to write this piece to play for all the festivals in Las Vegas. 
Tatsumaki – composed by Hiroshi Tanaka, TCP/Jun Daiko. "Tornado": Dynamic movements evoke the energy and sheer power of one of nature's greatest forces.
Renshuu – "Practice", composed and arraged by Seiichi Tanaka, San Francisco Taiko Dojo. This piece was composed for the beginner player in mind. It hits all the main components that a beginning taiko player needs to learn. Performed by our newest Protege class. 
Skipping Stones – composed by Adam Weiner – Imagine a group of friends spending a warm Spring day by a creek, or a lake, having conversations that range from playful to thought-provoking. All the while, they casually pick up flat stones and take turns skipping the rocks across the surface of the water. This song is about people coming together just to enjoy being together with no agenda, and the kind of energy created by such a relaxed and fun time.
Kaminari – written by D. Muraoka–This is the signature piece of LVKT. Kaminari means thunder; we invite you to close your eyes and listen to the sounds of the drums with your heart. 
Jack Bazaar – by Kris Bergstrom. A favorite composer in the taiko community, Kris is obsessed with the beautiful "strike". In Jack Bazaar, each hit and movement have a purpose; showcasing the grace and power each individual player brings to the song.